Many people hang decorations, buy gifts, and go caroling as their way of preparing for Christmas, but for most people it is all about "food". As a matter of fact, as early as first week of December, it's time to start thinking about what foods to cook, desserts to prepare, and how to put all these things together to bring out the spirit of Christmas.
Mostly, they will be busy with ham, salads, and pastas – these are normally what we see on our Christmas table. But, to add a little sweetness and creativity, why not prepare a little candy corner or a dessert buffet for the sweet tooth?
Below are  few of the delectable dessert designs that are truly toothsome.
Candy Christmas and Hot Cocoa Bar

Source: celebrationsathomeblog.com

2. Red and Green Christmas Party

Source: thecardswedrew.com

3. North Pole Dessert Buffet

Source: catchmyparty.com

4. Christmas Exchange Cookie Party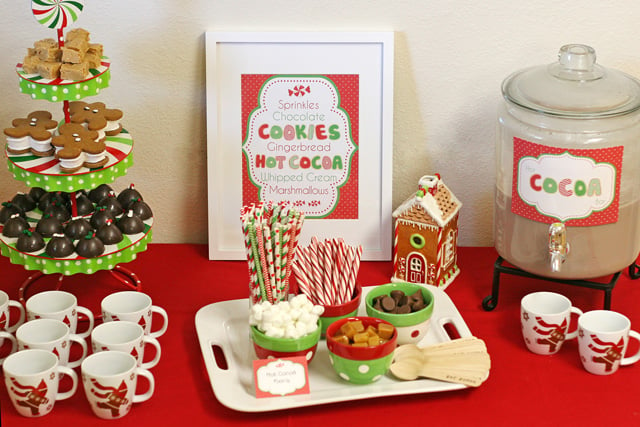 5. Kids Candy Coated Christmas Party
6. Christmas Candy Buffet
8. Grinch theme Inspired Christmas Party
9. Merry Mitten Escape Dessert Table
10. "Here Comes Santa" Dessert Table
11. Christmas Hot Chocolate Bar
12. Sweet Soldiers
13. Silver and Blue Christmas Buffet
14. Christmas Dessert Table
15. Vintage Winter WonderLand
16. Green And White Christmas Dessert Table
17. Red Holiday Guest Dessert
18. Candy Christmas
19. Santa Study's Guest Dessert
20. Lime Green and Red Christmas Party
Comments